Intelligent Products is a central part of Securitas strategy to become the leader in Intelligent Security powered by data driven innovation. We offer a go-getting start-up work environment with a lot of can-doers. You have the opportunity to affect your way of working, processes and usage of tools, and a chance to establish yourself in a global setting. This is an exciting journey in building our team and new innovative products empowering our customers and employees to strive for a safer society.
About the role
As a Full-stack Developer at SIS you will be a part of our DevOps team and contribute to the implementation of new functionality in our software products, be part of continuous improvement of the operational stability and performance of these products and services. Examples of main tasks:
Development of frontend and backend functionality
Investigation of technical issues and challenges
Creating low level technical design from architectural blueprints
Implementing user facing functionality from design specifications and user experience guidelines
Improve ways of working by sharing experiences and best practices
Preferred experience and competence
We would like you to have minimum 3 years of software development experience. We also think that you have experience in at least two languages out of JavaScript, C# and Python.
A plus is if you have experience in cloud deployment (Azure, AWS or GCP) and knowledge in at least one major front-end framework, e.g. React, Vue or Angular as well as traditional HTML and CSS.
We recognize that it is a complex role, and even if you don't have hands-on experience in all areas, an open mind, curiosity and willingness to learn or investigate these technologies is equally important.
Are you interested in learning more about this great opportunity on our road to Intelligent Security, please do not hesitate to contact Frida Blomqvist at frida.blomqvist@securitas.com
We are reviewing applications continuously, so apply today! We are looking forward to your application.
About Securitas Intelligent Services (SIS)
Securitas is a knowledge leader in security; driving the industry with the tools of tomorrow, not with the tools of yesterday. The security of the future is a combination of people, knowledge and technology. A combination of sensors, analytics and the knowledge of experienced people on-site. By bringing all this together, we can mitigate risks before they become threats, act in real time when needed, and always keep the customer engaged in what is going on. This is the new reality we are facing. We call it the New Face of Security.
Kontakta mig för mer information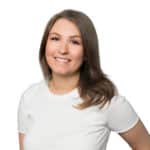 Ansök utan CV