Capio Strengthen the organization and looking for a person that will have the responsibility to ensure the service delivery within IT Workplace throughout the Nordic organisation.
Your opportunity
Capio's strategy is focused on Specialization, Digitalization and Consolidation to enhance medical quality and growth. To support this, Capio Nordic IT along with the Nordic staff functions is transforming to become a driving force in technology related business development.
As Capio Nordic IT is transforming to become service oriented, we need to grow our capabilities, capacity and strengthen the organization with IT service owners driving the design, implementation and operations of the services within the portfolio and help Capio Nordic IT in the general service-oriented transformation. E.g. acting both as service designer and service owner.
The service owner will work in close collaboration with business and IT leaders to ensure the service delivery maintains quality and to continuously capture and align requirements for the future of the service.
Who are you?
You have an academic degree in Computer Science, Engineering or similar relevant field or an equivalent work experience.
You have strong or good knowledge in IS&T Service management and ITIL processes and within the general IT Infrastructure (HW/SW) and Operations area.
As a person you have strong analytical skills and the ability to prioritize effectively and you do not hesitate to take the lead to get things done. In addition, you have good communication skills, verbally and in writing, in both Swedish and English. You operate and collaborate effectively both with business and IT team members.
We preferably see that you have five years (or more) of relevant experience in IT.
The service owner for IT Workplace is responsible for desktop solutions in the form of computers, telephony, mobility and collaboration solutions. The service owner ensures that the relevant IT infrastructure services provides the hardware and software that are needed for the employees of the company to work efficiently in their day-to-day job.
The IT workplace service owner should be:
· Experienced in end user device management (laptops, desktops, peripheral equipment)
· Knowledgeable about software and hardware configuration management and tools
· Knowledgeable about mobile device management and tools
· Experienced in Windows 10 / Evergreen management
· Experienced in Office 365 management and deployments
· Knowledgeable about virtual desktop and hypervisor technologies
The role will be based in Gothenburg and will include travelling to Capio units on a regular basis and it will be organized within Capio Support AB and report to Head of Infrastructure and Operations.
Capio is an innovative and leading healthcare provider offering a broad range of high quality medical, surgical and psychiatric healthcare services through its hospitals, specialist clinics and primary care units in Sweden, Norway and Denmark. Capio aims to be there for its patients in every situation – whether at the physical care facility, at home or on the move, and is complementing its physical healthcare offering with digital services and new efficient digital tools.
In 2018, Capio's c. 7,100 employees (average full-time equivalents) in Scandinavia provided healthcare services during 4.3 million patient visits, generating net sales of approximately SEK 9,500 million. Since November 2018, Capio is part of Ramsay Générale de Santé, creating a leading provider of healthcare services in Europe with annual net sales of approximately EUR 3.8 billion and 36,000 employees. For more information about Capio's operations in the Nordics and Ramsay Générale de Santé, please see www.capio.se and www.ramsaygds.fr.
Kontakta mig för mer information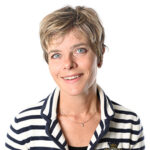 Ansök utan CV