Capio Nordic IT – IT Operations Senior Technician
Capio's strategy is focused on Specialization, Digitalization and Consolidation to enhance medical quality and growth. To support this, Capio Nordic IT is transforming to become a driving force in technology related business development. We shall provide the expertise and capacity to deliver timely technology-based business improvements, on a foundation of robust and standardized services and processes.
As part of the Capio Nordic IT transformation we need to grow our capabilities, our capacity and further strengthen the organization with an IT Operations Senior Technician.
We are looking for an IT Operations Senior Technician who is passionate about daily operations and being part of the process of developing new technical solutions and services. You put pride in managing incidents, problems and carry out changes in a timely manner to support and contribute to the success of our business units. You believe in the true value of proactive work to prevent disturbances. To safeguard smooth and efficient business operations you see documentation and continuous improvements as a natural part of the daily routines.
What can we offer you?
We are re-shaping our IT organization to support and enable our business areas to take on the new and interesting challenges for the Nordics. Our quest is to shape a foundation of robust and standardized services and processes that will enable our business. You will be challenged to contribute with your expertise and take active part in the service development activities that will take us forward. Your suggestions and viewpoints will make a difference when we move ahead shaping Capio Nordic IT.
You will play an important part in the day-to-day operations to manage incidents, problems and changes related to server infrastructure, network and Data Center components. We expect you to contribute with your expertise and take an active part in the development and maturing of our way-of-working.
We offer you a broad spectrum of technical challenges that we believe will contribute to your personal and professional development.
Who are you?
We believe you are a team player who has the ability to listen to others as well as find interest in supporting colleagues when needed. You find changes and continuous improvements as a natural part of the way-of-working. You are a "doer", and you identify "opportunities" instead of "hurdles" when faced with challenges.
You recognize yourself in:
· Experienced in leading and participating in troubleshooting, managing and solving issues related to operations
· Knowledgeable about software and hardware configuration
· High level of security awareness
· Good documentation skills
· Experienced in project-based work
· Good communication skills, verbally and in writing, in both Swedish and English
· Interested in new technology
· Experienced in migration projects
The role will be based in Gothenburg and it will be organized within Capio Support AB and report to the Operations Manager.
Capio is an innovative and leading healthcare provider offering a broad range of high quality medical, surgical and psychiatric healthcare services through its hospitals, specialist clinics and primary care units in Sweden, Norway and Denmark. Capio aims to be there for its patients in every situation – whether at the physical care facility, at home or on the move, and is complementing its physical healthcare offering with digital services and new efficient digital tools.
In 2018, Capio's c. 7,100 employees (average full-time equivalents) in Scandinavia provided healthcare services during 4.3 million patient visits, generating net sales of approximately SEK 9,500 million. Since November 2018, Capio is part of Ramsay Générale de Santé, creating a leading provider of healthcare services in Europe with annual net sales of approximately EUR 3.8 billion and 36,000 employees. For more information about Capio's operations in the Nordics and Ramsay Générale de Santé, please see www.capio.se and www.ramsaygds.fr.
Kontakta mig för mer information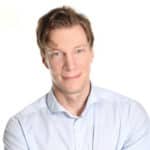 Ansök utan CV