Are you a solution oriented Infrastructure Architect that likes structure and improvements? Who also likes strategic thinking but still have your roots in the technical reality? Do you challenge "old truths"? Do you get triggered by the thought of being a part of a digital transformation journey at a strong and well established company? Then you might be the Infrastructure Architect we are looking for!
YOUR WORKDAY
Your mission will be to lead the work and improvements of our IT-infrastructure to manage challenges in short as well as long-term perspectives. You drive your work forward in a structured way with clear targets and the infrastructural roadmap. You secure that high availability is delivered, in a cost-aware way, where you weight cost against benefits.
The operation at UC is multi-sourced and you will work closely to our vendors with requirements, follow up and improvements. In addition to the vendors you will also have close cooperation with our Enterprise Architect, other architects and the agile development teams.
You have the knowledge and will to contribute so that our infrastructure and processes within IT Operation supports our target for an agile way of work, with continuous deliveries.
IT-Infrastructure Architect reports to Manager IT Operations Sweden.
WHO ARE YOU?
We believe that you are a person with a can-do attitude that drives the work forward in a structured and thorough way, whilst also having the ability to look at things from a wider perspective and be creative in your problem solving. The right person also has a deep technical understanding and is a skilled communicator who communicates easily with different stakeholders, in both Swedish and English, since this is a Nordic group. Further you build relevant relations within both business and IT.
You have the following experience:
At least, 5 years relevant work-life experience from similar role
Experience from process work, agile methods
Experience from multi-sourced environments
And good knowledge in:
Linux, RedHat products and Microsoft solutions
Container technology (OpenShift) and cloud solutions
Network, data communication, network security solution & architecture
DevOps and ITIL
If you also have experience from mainframe environments or an academic education, we see that as a plus.
IF YOU WANT TO KNOW MORE
Please feel free to contact meif you have any questions about the position or about UC as a company. We will review your application continuously, so make sure not to wait until the last day with you application! Applications are welcome by clicking the button below. Unfortunately, we are unable to handle applications sent to us by email.
We are looking forward to receiving your application!
UC is one of the leading business and credit reference agencies in Sweden. The company provides digital refined business information and comprehensive credit reports that enable companies and private individuals to make intelligent decisions. Customers include companies, private individuals and the public sector. Since July 2018, UC Group is a part of Asiakastieto Group Plc. In 2017, Asiakastieto Group's net sales totaled EUR 131 million and at the end of 2017 the Group employed nearly 500 people based in seven cities in Sweden and in Finland.
Det här är några av de förmåner arbetsgivaren erbjuder
Duktiga och roliga kollegor
Eget ansvar
Kollektivavtal
Utvecklingsmöjligheter
Kontakta mig för mer information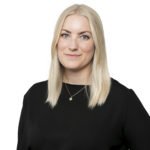 Ansök utan CV