Do you thrive in a role between tech teams and more strategic architecture? Do you have solid experience within architecture and interest in business? Are you also a skilled communicator, with a solution oriented mindset? Great! We are looking for a Strategical IT Architect to join our team at Asiakastieto Group – where you will be technical responsible for one of our business areas!
What you will do..
As one of our Strategic IT Architects, you will be responsible for the solutions within one of our Business Areas at AT Group – which area depends on your background and interest – and the responsibility covers all platforms and solutions from a technical architectural perspective within the area.
The role is new in our organisation, so you will be able to influence how it develops but we see that your responsibilities will include, but not be excluded to:
Assure that the solutions are aligned with the groups strategic architecture and principles for security, regulations, legality etc. and maintain a balanced technical depth.
Together with Enterprise Architect develop and refine patterns, policies and guidelines around our architecture.
Support your business area in technical decisions.
Work for cost effective solutions that meets business requirements.
You will collaborate close with the development teams and the Lead Developer, business stakeholders such as Product Owners, Product Specialist and the other architects.
You will be part of the architect community in AT Group to continuously shape, implement and improve the target architecture aligned with our enterprise architecture.
Also, you will support the development of architecture community with common ways of working, principles, governance and guidelines for our architecture with Nordic focus.
The position is within IT Architecture, a group of 5 architects whom reports to Staffan Altebro, Head of IT Architecture in AT Group.
And this is who we think you are..First of all, we are looking for you, who has a positive mindset and wants to deliver together with your team whilst also possess the ability to drive your work forward on your own and takes personal responsibility for delivering great results. As a person you are problem solving, with a structured way of working and with your social skills you build relevant relationships and engage others in your cause, It is important that you are a good communicator who and cooperates well with others. We also believe that you share knowledge with your peers and learn from others.
Except for the personal traits that we have mentioned above, we see that you have worked with solutions and architecture for several years in agile delivery organizations, where you have driven IT strategies. You have experience of working with both IT and business and secures that we offer solid solutions to our customers. We have several solutions and techniques in the company, and values your broad experience.
AT Group is a Nordic company with English as working language – therefore you need to be fluent in English, both written and spoken.
What you can expect from AT GroupSince you have come this far reading the ad we guess you find the role quite interesting, great! Now it is time for us to tell you a little about what is in it for you other than a challenging and fun role to grow in.
No matter how much we like our job we find it important to have free time and therefore we value a good work-life-balance. At Asiakastieto Group we continuously work with corporate health and offer solutions that enhance human well-being and improves performance within our organization.
If you want to know more
Please feel free to contact us if you have any questions about the position or about us as a company. We will review your application continuously, so make sure not to wait until the last day with you application! Applications are welcome by clicking the button that will send you to our website. Unfortunately, we are unable to handle applications sent to us by email.
We are looking forward to receiving your application!
UC is one of the leading business and credit reference agencies in Sweden. The company provides digital refined business information and comprehensive credit reports that enable companies and private individuals to make intelligent decisions. Customers include companies, private individuals and the public sector. Since July 2018, UC Group is a part of Asiakastieto Group Plc. In 2017, Asiakastieto Group's net sales totaled EUR 131 million and at the end of 2017 the Group employed nearly 500 people based in seven cities in Sweden and in Finland.
Kontakta mig för mer information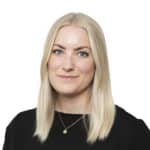 Ansök utan CV