Do you take pride in optimizing and streamlining technical documentation? As a Help & Learning Center Manager you will be responsible for users' ability to grow their productivity through efficient operation of the tool. Are you the Help & Learning Center Manager we are looking for?
About the role
This position will be responsible for development and maintenance of Help & Learning Center for Modelon products, reporting to the Chief Product Officer (CPO). This position is part of the Product Management Team and thereby jointly responsible for the entire Modelon Product Portfolio. As Help & Learning Center Manager, you are expected to work closely together with various people in the organization, including but not limited to Application Engineering, Training Content Providers, and Product Development.
As Help & Learning Center Manager, you are ultimately responsible for users' ability to grow their productivity through efficient operation of the tool. From getting new users started through continuously growing users' skills, it is expected that users themselves at large can find the help they need without engaging our 1st and 2nd line human support. High performance in this role is expected and success is depending on your ability to deliver both the quality of the content and the way it is found by and presented to the user.
Written documentation is central to the content production and it is important that you are proficient to produce this content efficiently and to guide others. Moving forward, it is expected that content format will be purpose driven and that you are proficient in creating shorter video content. It is also expected that you reflect and seek to find ways to improve how users find and is exposed to the help content. The majority of the output is expected to be delivered by you with help and support from colleagues. You are expected to engage in understanding the product from a user perspective and being able to break-down complex concepts into easy-to-understand content. You will have to prioritize your efforts according to what produces most value for our users and seek collaboration to reach your targets.
Responsibilities and Measurables
As Help & Learning Center Manager, you are accountable for:
Users self-ability to get started and growing skills in operating our products
Attractiveness: Look and feel, relevance and quality of help and learning content
On-time and on-spec delivery for releases
Related Experience Should Include
Strong writing / documentation skills (user guidance, training materials, technical documentation preferred)
Technically savvy with interest in User Experience (quick to pick up basic computer programs and tools)
Strong organizational skills (including ability to keep several activities going in parallel)
Purpose driven with ability to understand the user needs and reasons to use our products
Strong interpersonal skills (experience working with product managers, commercial team, developers, and customers)
Teaching experience is a plus
Experience with video production is a plus
How to apply
Modelon works together with Wise IT in this recruitment process. You are welcome to contact recruitment consultant Charlotte Wilhelmsson for questions. Welcome to apply via our web form as soon possible, as applications are processed on an ongoing basis. Please note that you cannot apply by mail.
About Modelon
Modelon is an industry leader in model-based systems engineering that brings innovative simulation products to market. Modelon has grown substantially since its inception and our global placement has been strategic – bringing our people and products closer to clients. Today, we serve a clientele base across a wide range of industry sectors which include some of the largest companies in the world. Our products enable companies to focus on delivering a unified picture of product system interaction and performance – from product concept to operation. Read more about Modelon here: www.modelon.com.
Contact me for more information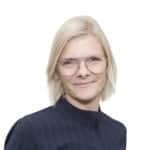 Apply without CV